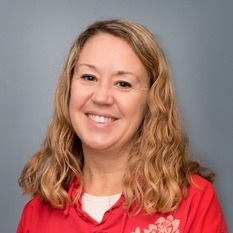 Parish Associate for Children, Young Families and Pastoral Care
Rev. Trish Lisa is passionate about serving children and their families, and has done so in a variety of ways for the past 24 years. Trish has served two Presbyterian congregations and was responsible for Christian Education of children, youth and adults; in her second call, she was ordained as a Presbyterian pastor and has been ordained for 15 years. Trish was also recently licensed as a K-6th grade teacher, and taught in the public school system for a year.
She is so excited for the opportunity to return to her calling- nurturing the faith and spirituality of children and their families! Trish and her family began attending Orchard Park after her last ministerial call ended, and they are grateful for this opportunity to be more involved and connected.
Trish has an amazing family- husband Ken, kids Jake, Ellie and Alec and a fantastic extended family.  She love to read, likes to jog, loves crafts, STEM projects, and being outside (well, unless it is frigid and/or snowing; then NO).