LOVING GOD WITH OUR MINDS
"Teacher, what is the greatest commandment in the Law?"
Jesus replied, "You shall love the Lord your God with all heart and with all your soul and with all your mind." 
– Matthew 22:36-37
Christian Education is where we seek to love God with our minds, and it is a life-long process. We at OPPC believe that we should never stop being "learners." Adult Education programs at OPPC offer adults at all stages of life the chance to deepen their knowledge of the Bible and grow in their faith. Opportunities are offered throughout the year in a variety of formats so that all may find ways in which to grow and mature as Christian believers. 
Every Wednesday, we listen for God's voice as we read, learn, discuss weekly Bible passages. While we wait to gather again in-person, we will be gathering on a weekly Zoom video conferencing call. Following our Zoom Bible studies, Shelly will share a summary video for those not able to join us live.
BIBLE STUDIES, CLASSES, AND GROUPS
THURSDAYS @ 9:30 A.M.  (BEGINNING SEPTEMBER 23RD)
WOMEN'S BIBLE STUDY
We will be beginning a new virtual Thursday Morning Women's Bible study on September 23 and will continue through November 4.  We will be studying "Now That Faith Has Come: A Study of Galatians" –a study by Beth and Melissa Moore. 
 
From the back of the book: "The apostle Paul didn't plan to go to Galatia.  God used a physical ailment to guide Paul there, carrying the gospel of the Lord Jesus Christ with him.  The relationship Paul would build with the Galatian converts—and his determination for the truth o the gospel to be preserved among them—led to one of the most passionate letters in the New Testament.  Paul would not sit quietly by and let those who'd been liberated by Christ's glorious gospel submit again to a yoke of slavery.  He'd send a letter with the volume turned up—calling believers to stand firm in the truth, stay bold in love and walk by the Spirit.  He'd remind them what it looked like to live for God's approval rather than human approval.  The eternal words God entrusted to Paul for the churches of Galatia are as needed today as they were when the ink was still wet on the ancient pages."
 
This is a 6 week, 7-session study that will gather in the zoom room any time after 9:30 AM, begin at 10:00 AM, and should be done at 11:30 -11:45 AM.  Each week involves homework, a discussion, and a video.  Please email Leann Pope at lpope714@gmail.com if you wish to attend so that you can be sent a zoom invitation as well as directions for ordering your study book.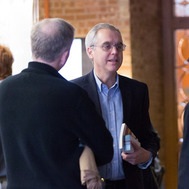 TUESDAYS @ 6:15 A.M.
MEN'S BIBLE STUDY IN THE LOUNGE
Led by members of the group
This is a relaxed time of fellowship and study! We use various series that provide Bible lessons that are easily completed within a one hour discussion format. Great conversation, prayer time, and coffee!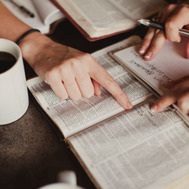 WEDNESDAYS @ 10:00 A.M.
VIA ZOOM
Everyone is welcome!  Throughout the spring, Pastor Shelly will be preaching on the theme of discipleship in the Gospel of Luke.  This class will explore further what Luke teaches us today about being Christ's disciples in a shifting culture.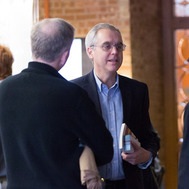 WEDNESDAY MORNING MEN'S BREAKFAST@ 6:45 A.M.
Start off your Wednesdays with breakfast, fellowship, Christian support and reflection on God's Word.  We meet at the Sunrise Café 11711 N. Meridian Street in Carmel.  The leader is Dave Brentlinger.