OPPC becomes a Earth Care Congregation.
In April 2023, Orchard Park Presbyterian Church was given the honor of becoming an Earth Care Congregation by PCUSA.
In return, OPPC promised to continue to educate, inspire and provide resources to help build environmentally sustainable change.
This commitment and our activities bring hope to our community and the world.
Click here, to learn how Orchard Park 
Presbyterian Church became a 
Earth Care Congregation.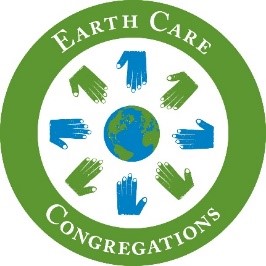 We care for God's earth in 4 broad categories: Worship, Education, Facilities, and Outreach.
Worship
As we rejoice and give thanks to God, we intentionally remember through word, prayer, and action, that we are stewards of God's earth. No bulletin Sundays, eco-palms for Palm Sunday, earth care minutes for mission, outdoor services, and communion by intinction are just a few ways we demonstrate our pledge to use God's resources responsibly.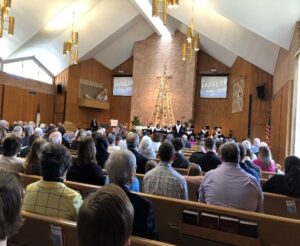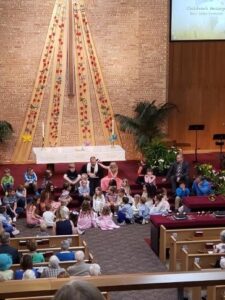 Education
Our faith teaches us that God made the earth and gave man dominion over the earth and commanded that we till and keep the garden.  Genesis 1:26, 2:15.  To accomplish this, we purposely explain the many ways we can care for God's earth.  Lessons in Sunday school and vacation bible school, weekly reminders in newsletters, distribution of earth care Lenten devotionals and participation in earth art contests help adults and children alike learn how to use and shape earth's good to create beauty, order, health, and peace in ways that reflect God's love for all creatures.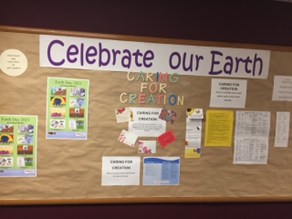 Facilities
Orchard Park has invested many resources to upgrade its church building and grounds, thereby showing our love for God's creation.  Pollinator gardens, native landscaping, perennial plantings, less pesticide usage, and the proliferation of dandelions in the spring (to feed the bees) show commuters our commitment. Inside the church, we have added insulation, upgraded our windows and heating/air conditioning systems, switched to LED lighting, installed motion sensors in some bathrooms and much more. On Sunday morning and church dinners, we use non-disposable dinnerware and/or compostable cups. And recycling happens every day with recycling containers located throughout the building.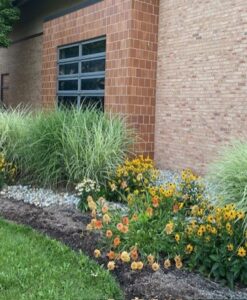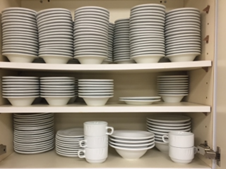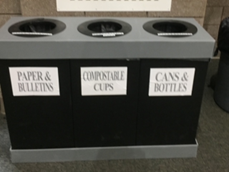 Outreach
Beyond Orchard Park, children and youth get out into God's creation at Camp Pyoca and while on Youth Caravan.  Members are witnesses to sustainable lifestyle changes through purchasing electric vehicles, riding bikes, using reusable/recycled materials rather than purchasing new and installing solar on their home rooftops.  OPPC rents space with other non-profit groups such as Fountains of Hope, AA, and Boy Scouts.  And we spread the word by participating in Presbyterians for Earth Care and participating in disaster recovery efforts with an eye towards sustainability and resilience.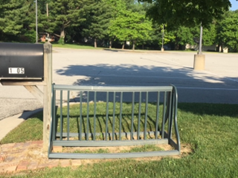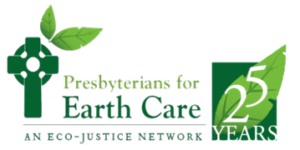 Fulfilling the Earth Care Pledge.
Click on the image to read more about the category. 
Continuing the Earth Care Pledge.
We understand there is so much more to learn and so many more actions to take.
We will continue learning, acting and advocating and, in turn, honor our commitment to the Earth Care Pledge.
For more information or questions, please email oppc@orchardpark.org. We will be happy to share.