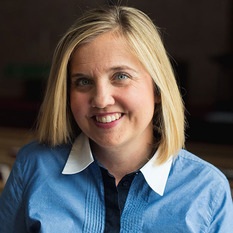 PASTOR REV. DR. SHELLY WOOD
Rev. Shelly Wood is an Illinois native. She and her husband, Blake, have three children: Maclean, Madelyn and Jackson. Rev. Wood has her BA in English and Political Science and a Masters in Counseling all from Eastern Illinois University and a Masters in Divinity from McCormick Theological Seminary. She completed her Doctorate of Ministry at McCormick Theology Seminary in May 2016.
Shelly has a passion for preaching, community building and creating opportunities for mission and service. When she isn't working in the church or driving kids to their activities, she enjoys running, biking, writing and joining her husband for a night out at the symphony or theatre. She is excited to be in ministry with the community of Orchard Park Presbyterian Church.