The Indiana School for the Blind and Visually Impaired educates and nurtures children who have difficulty in school due to vision impairments and other conditions. It is one of the largest schools of its kind in the country. In its 175 years of existence, the school has developed unique expertise and knowledge about how to help students with visionally impaired challenges.
Orchard Park has contributed school supplies to the school for many years. During the pandemic, we donated $$ instead of supplies. In 2022, we charted a different course involving a service project and purchase of audio equipment. Thanks to Katie Haugk, Kristin Lehr and Kim Harvey, our OPPC youth partnered with the school on December 20th and helped students construct gingerbread houses. Assistant Principal, Julie Beaty, thanked OPPC so much for its support and efforts in making the holidays a little more special for students and staff. She said, "It is such a blessing to know that we have supportive people making our job a little easier." Julie continued, "Your high schoolers were awesome as well. Lots of smiles all around."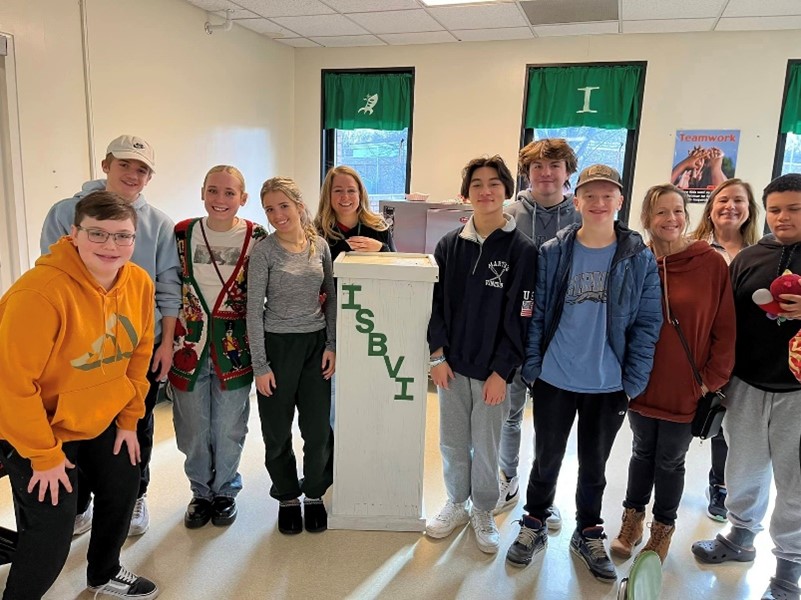 OPPC mission funds were used to purchase the materials to make the gingerbread houses. In addition, OPPC purchased state of the art audio equipment. As Kim Harvey remarked when one of your senses is impaired, it is very important to support the other senses as much as possible. New audio equipment does just that.
Thanks to Katie for taking the group and Erin McGee, Linda Shepherd, Anysley, Cam, Drew, Noah, Anna, Jackson, Krista, Tyler, Brenden, and Shawn for stepping up and making Christmas just a little more special.
If you would like to read more about other mission spotlights, please click here.